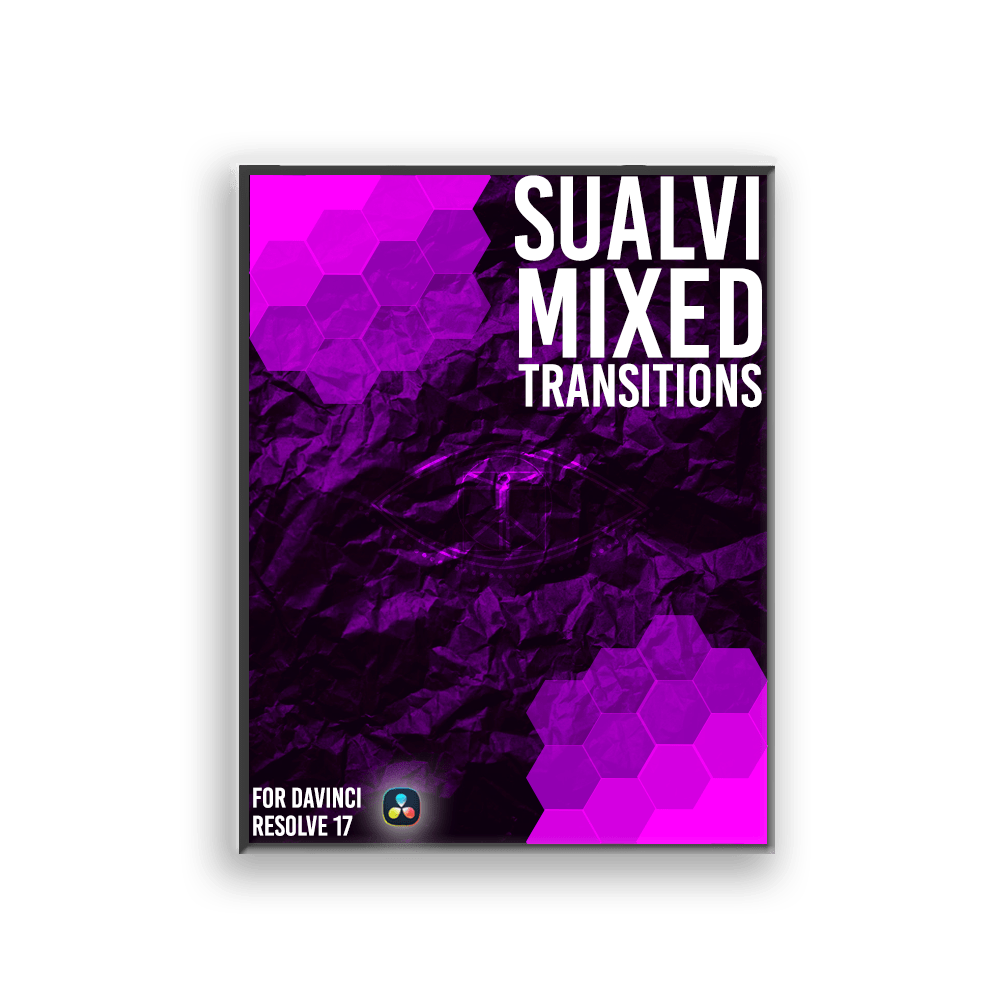 SUALVI MIXED TRANSITIONS
Drag and drop transitions made in and for DaVinci Resolve 17 and on.
Beginning with 20+ individual base transitions that you can customize to your likeness.
4.8 out of 5 stars (based on 5 reviews)
What are the benefits of these?
Features
System Requirements
Video Guides & Tutorials
Great transitions!
This is a good collection of transitions that really provides a lot of flexibility. With the various options that are available in each transitions you really end up with MANY variations. If you spend the time to explore each transition and its settings, you'll really be able to dial things in exactly as you want them. The way they come "out of the box" is just the beginning. The transitions seem to cache quickly as well, which is nice when you're making changes to find just the right look. (I'm using an Intel MacBook Pro with upgraded GPU, not a dedicated video editing workstation.)
Response from SUALVI
Thanks for your feedback Ron! Hope you have fun and that you are able to create some cool things with them.
VERY MUCH USEFULL PACKAGE
I am beginner Davinci Resolve 17 user. i used this package, this is very useful package. this transitions give extra edge to my videos. This package is dynamic which can be apply for all resolution and framerate. installation is also very easy and smooth. I am also subscriber of Sulavi YouTube channel, great tutorials are there. Thank you for such a great package.
Response from SUALVI
Thanks for the review Vatsal, glad to hear you find it useful.
Great transition package with multiple options for Geometric figures
I am a beginner Mac M1 Davinci Resolve 17 user, and I have found this transition package very useful, since it increases my ability to edit more complex transitions. I found the installation very simple, even with a 4K video the rendering is super fast and efficient.
I would strongly recommend such mixed transition package to any beginner or intermediate Davinci resolve user.
Great job
Response from SUALVI
Thanks for the review Massi!
Fantastic looking seamless transitions by Sualvi
Sualvi's newest transitions are a good addition for your DaVinci Resolve 17 installation. Setting up the transitions is pretty straight forward and painless tutorial video and included read me file. For most of the transitions, the newest version of DaVinci Resolve allows you to preview the effect without actually adding the effect which is very, very convenient. While I do have the Studio version, I did notice that certain transitions would not show a preview, even after waiting for the system to catch up. Specifically the effects: Mini Squares 1 – 3, Mini Circle 1 and Square Style 3. While I admit my laptop has 12GB RAM which is below the recommended minimum of 16GB, this typically only happens while using Fusion intensive effects. Even when rendering, these transitions took an enormous amount of time to render. I conclude that either these are so CPU expensive that my laptop can't render them fast enough or, maybe these transitions could be tweaked to perhaps reduce the computers strain. In any case, although these took a really long time to render, the
results are pretty ideal. I'm confused about the Circle Style 2; it seems to shutter when rendered. That is to say, it starts to grow, then seems to get smaller and then gets bigger again until the transition is complete – is that by design?
In any case, the animations, easing and seamlessness of these transitions is commendable. With some tweaks to the ones I've mentioned, this pack would move from good to great.
Response from SUALVI
Thanks for the review Derrick, I will look into those things.
Yea, a few of them are CPU intensive, specially the ones like the mini squares, since they are designed with delayed duplicates, which for some reason duplicates always take a big tool when rendering. I will see if maybe I can adjust that by creating a version without using duplicates (I will just have to build a bunch more mask haha). Yea, the Circle Style 2 was that way by design, I think it works best when the transition is not too short, but in any case, I will look into adjusting the curve, maybe that way it adapts better with shorter transitions too. Thanks for the feedback once again.
I will make sure to send an email when I add those updates.
Kev
SUALVI
Awensome, easy and fast
Great transitions, easy to use.
They work with every framerate and resolution.
Nice to have!!